Firebolt's Foals
This page is about the foals that Firebolt has raised. All three of these foals are different colours as you will see as you scroll down the page. She is bred for a foal to arrive in June of 2011 and I am very curious to see what colour she will produce next.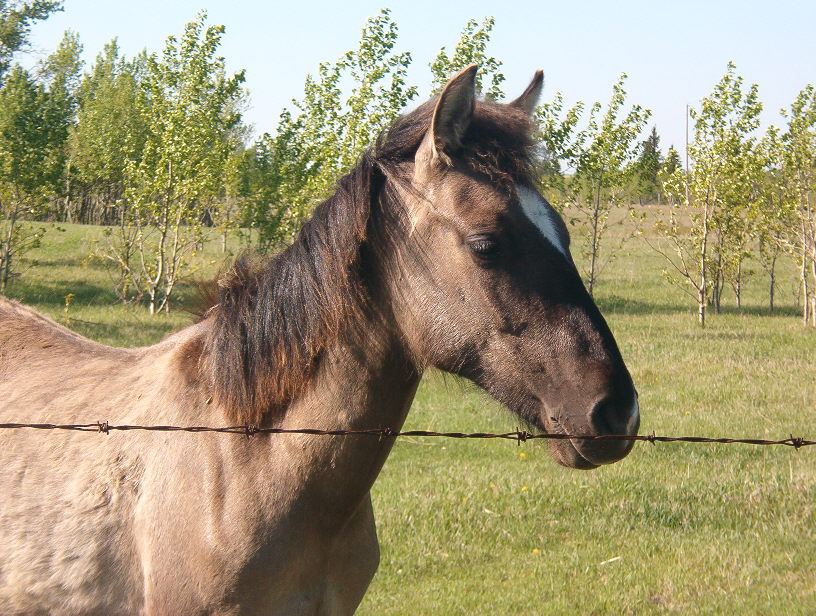 Aarson
This is a picture of Firebolt's first foal, Aarson. ((Dam-FIREbolt + Sire-FIREfly = foal-Aarson.)) He was born on May 22, 2007 and is one year old in this photo. He has since matured to a medium shade of "Gruella" and is a lovely boy. He is being used regularly on a lead-line pony ride and is in training to be a PPG pony. Aarson's Cree name is "Kwahkotew" (pronounced gway-ku-tea-you) and means "it is on fire."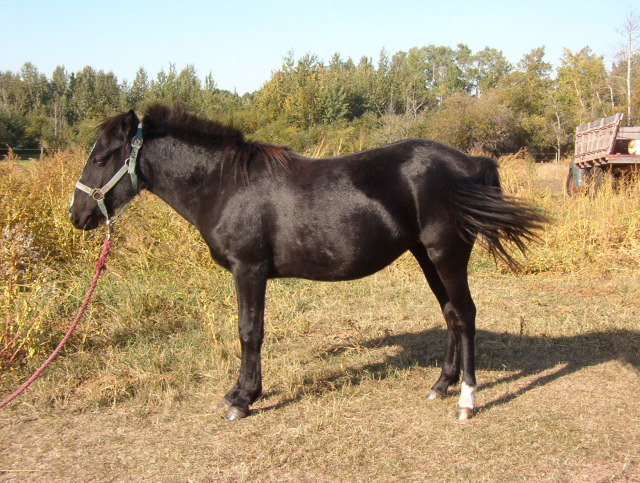 Briquetta
This is Firebolt's second foal, born in June of 2008, a black filly we call Quetta. She's black and from two 'Fires". At this point she is a pasture pet, but soon will start the training for being ridden. She has a wonderful temperament and although the picture doesn't show it she is very well put together. She will make an awesome mount for one of our grandsons. Quetta's Ojibway name is "Makatewis" (pronounced MUCK-a-TWO-wis) means "I am black or I am of a black/dark complexion."
Freedom
This is the third foal from Firebolt, born in May of 2009. We call her Freedom. My son and I were doing some halter work with her and when he took off the halter and let her go he told her "Freedom is Yours", and hence the name. She is a well put together little girl and is the rare colour called 'Smokey Black". Her saddle training will commence next summer and for now she is also a pasture pet. Freedom's Cree name is "Tipiyimisiw" (pronounced tay-pay-mi-sew) means "breaking loose or freeing ones self."